Food and Medicine Supervisory State Body (BPOM) announces that 54 brands of local traditional medicine spread in Indonesia contain dangerous chemical drugs. 54 brands fo the traditional medicines are such as OBAT KUAT, jamu and medicine strong, OBAT CAPEK, blood-vessel acid, and body slimming.
The Head of BPOM, dr Husniah Rubiana Thamrin, told the medicines evidently contains dangerous chemical drugs, as
sibutramin, hidroklorida, sildenafil citrate, siproheptadin, fenilbutason, acid mefenamat, prednison, metampiron, teofilin, and parasetamol
.
Recently BPOM branches in all of Indonesia continuously inspect traditional medicines sold in open markets. Since 2007, Many of them are accused using toxin chemical susbtance or the mixture is not compatible with the label. All of those medicines brought to the laboratory will be examined. The result is that 46 of 54 products use fake regristration number, 7 brands are different between their contents with their labels, and 1 brands unlisted from foreign country
"Every drugs and traditional medicine which do not pass away the test will be directly pulled and annihilated."
"If the drugs get away the test, but different with their existing lable, we give them warning," stated Husniah in BPOM office Jakarta, yesterday.
According to Husniah, 54 brands of drugs and traditional medicines are found and seized in 15 sub-provinces and cities in Indonesia. Some of them from Yogyakarta, Cilacap, DKI Jakarta, Banjarmasin, Kendari, Medan, Mataram, Lampung, Aceh, Bandung, Pontianak, Bengkulu, Padang, Pekanbaru, Kupang and Makassar. "We have commanded all offices of BPOM in Indonesia to monitor and draw dangerous medicine from circulation," he said. Drugs and traditional medicines that assumed dangerous can be seen at the table.
Husniah stated that traditional medicines contained chemical substance felt efficacious if drinked, but its side effects can destroy body organ. Even, it brings death.
Meanwhile, traditional drugs and medicines researcher from Yayasan Lembaga Konsumen Indonesia (YLKI) Ida Marlinda told there are still many traditional drugs and medicines that contain hard chemicals substance circulating in the market. If they consumes, they can destroy body organ because of their high doses.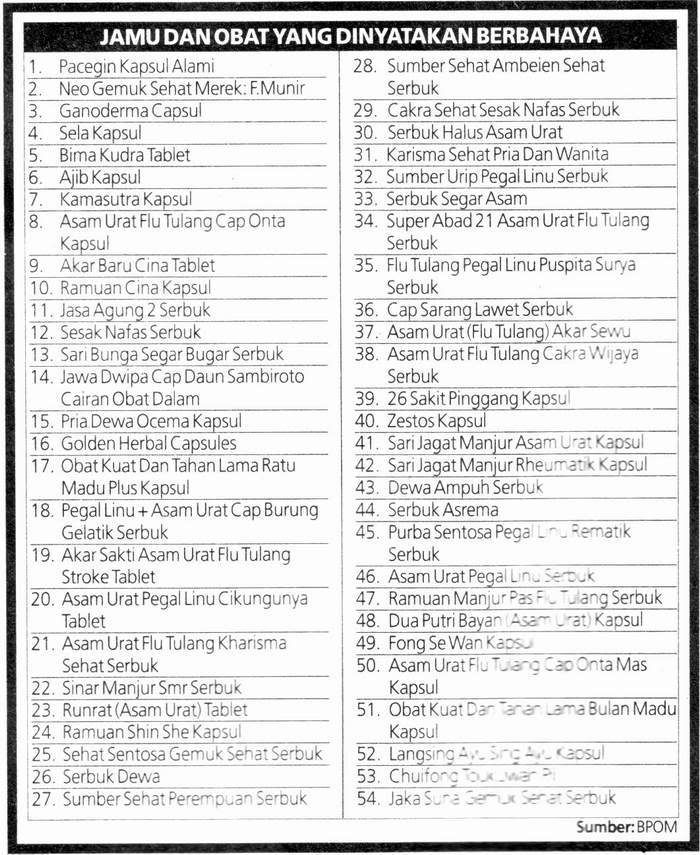 (sofian dwi - seputar Indonesia)